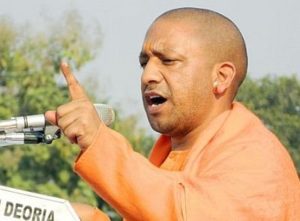 On his second visit to Gorakhpur after assuming charge as Uttar Pradesh chief minister, Yogi Adityanath warned law-breakers of strict action if they took law into their hands.
In an oblique warning to members of "gau-rakshaks" brigade and "anti-Romeo squad", the chief minister said that he will not compromise with law and order at any cost.
"I am committed to fulfill the dreams of our people to make Uttar Pradesh the best ruled state in the country. We will not compromise with law and order and those who violate law won't be spared", warned Yogi Adityanath.
Adityanath announced that he will establish rule of law in the state.
He also appealed the media to play a positive role in this.