New D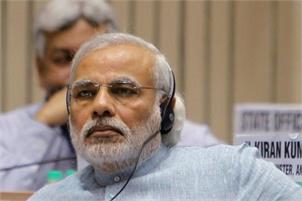 elhi, Jul 3  The Centre's goal in the northern state of Jammu and Kashmir is "good governance, development, responsibility and accountability", Prime Minister Narendra Modi has said.
"Recurrent terror attacks" that were common under the UPA rule are now history, Modi asserted in an interview to Swarajya magazine while discussing wide-ranging issues of internal security, including Maoist violence and the situation in the North East
?In Kashmir, our goal is good governance, development, responsibility and accountability,? the prime minister said
Jammu and Kashmir has been under Governor's rule since June 20
Asked whether there would be dialogue with stakeholders in the state, he said the government had appointed an interlocutor who was in touch with many people
"He is travelling to the interiors and engaging with people,? Modi said
Giving details of the security scenario in the country, Modi commended the "brave" and "eternally vigilant" security forces for ensuring peace as well as prosperity for 125 crore Indians
?You can ascertain our security situation from the fact that recurrent terror attacks that were common under the UPA are now history. The numbers vis-a-vis Maoist violence in the last four years should make every Indian happy
"Maoist violence has declined by 20 per cent in the affected states, with a concomitant reduction of 34 per cent in deaths in 2017 compared to 2013. Geographically as well, the influence of Maoist violence has shrunk substantially,? he said
Along with zero tolerance towards violence, the prime minister asserted, his government has also focused on a massive push to infrastructure and social empowerment to bring positive change in the lives of the poor living in Maoist affected regions
About 4,500 kilometres of roads have already been built in 34 Maoist-affected districts, and about 2,400 mobile towers have been installed, he said. An additional 4,072 towers have been approved to enhance connectivity
"In 2017, we had the lowest insurgency-related incidents and casualties among civilians and security forces in the last 20 years! Tripura and Mizoram are virtually free from insurgency," Modi said
According to the prime minister, north eastern states like Meghalaya, Arunachal Pradesh, Manipur, Mizoram and Tripura are also on broad-gauge map of the country
?A few weeks ago, the first commercial flight in three decades reached Arunachal Pradesh. The road network is being expanded and waterways are being harnessed.An improved security situation combined with a push for development is convincing people about the perils of violence and instability. It is also fulfilling the aspirations of the youth of the state,? Modi stated.