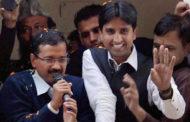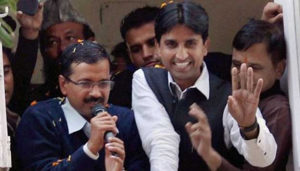 New Delhi: After Aam Aadmi Party's (AAP) loss in Delhi's Rajouri Garden by-poll, its senior leader Kumar Vishwas has given a piece of advice to his party leadership as to how should it approach future elections.
On Thursday, ten days ahead of the crucial MCD polls, the AAP suffered a body blow as it lost the Rajouri Garden Assembly seat to the BJP, forfeited its deposit.
Reacting to it, Vishwas had tweeted that there is still time for the party leadership to think and introspect.
Not only this, Kumar posted another tweet in the evening which read: "If you only listen to sycophants, then you will definitely lose."
Thereafter he re-tweeted his own March 29 tweet. The response from Vishwas came after the BJP won Delhi's Rajouri Garden assembly by-poll with a margin of over 14,000 votes, pushing Delhi's ruling Aam Aadmi Party (AAP) to a humiliating third spot.
The Shiromani Akali Dal's Manjinder Singh Sirsa, who contested the polls on a BJP ticket, bagged 40,602 votes, over 50 percent of the total vote count, in what turned out to be a two-cornered fight with the Congress' Meenakshi Chandela finishing second with 25,950 votes.
With Sirsa's win, the BJP will now have four MLAs in the 70-seat Delhi assembly.
The AAP fared so badly at the by-poll that its candidate Harjeet Singh could not even save his deposit. To save his deposit, Singh should have got least 1/6th of the votes polled.
Senior party leader and Deputy Chief Minister Manish Sisodia attributed the defeat to its ex MLA Jarnail Singh, who quit as legislator to contest from Punjab against its former Chief Minister Parkash Singh Badal from Lambi and said people were "upset" over this.
However, there was no word from Delhi Chief Arvind Kejriwal on party's defeat. Here's what Kumar Vishwas tweeted.
New Delhi: While his rivals claim that his party's loss in Rajouri Garden bypoll is a wake up call for him, Delhi Chief Minister Arvind Kejriwal appears less bothered. The AAP convener... Read more
Lucknow: Uttar Pradesh Chief Minister Yogi Adityanath on Friday said that schools across the state will not observe any holiday on the birth anniversaries of great personalities. The schools... Read more
The creation of formless matter of earth and gradual evolution of form of earth is referred to in two Holy Verses: ''Say: Is it that ye deny Him Who created earth in two days? And do ye join... Read more
At least 36 Islamic State (IS) militants were killed when the US military dropped a massive GBU-43 bomb, also known as the "mother of all bombs", in eastern Afghanistan, Kabul's Ministry of Defence announced on Friday.
Ministry spokesperson Muhammad Radmanish told Efe news that a large amount of ammunition and weapons were also destroyed in the bombing.
The GBU-43, a non-nuclear, 10-tonne missile powered by a wave of air pressure, was dropped on Thursday onto the caves used by the terror group in Achin district, Nangarhar province, on approval of US President Donald Trump.
Another man from Kerala, 23-year-old TK Murshid Mohamed, who allegedly joined the Islamic State, was killed on Thursday in Afghanistan's Nangarhar province, where the US dropped the "mother... Read more